NUK - First Choice Silicone Teats - 2pk
NUK First Choice+ Silicone Teat, 2 per pack
The most natural teat for your baby
For many years, NUK First Choice has been the first choice for bottle feeding modelled on breastfeeding. With NUK First Choice+ we have managed to get even closer to nature – for healthy jaw development and a drinking sensation as if at a mother's breast.
• Three sizes of feed hole available
Small - suitable for thin liquids such as breast milk or water
Medium - suitable for milk and formula
Large - suitable for thicker feed consistencies and hungry babies!
Natural and shaped correctly for the jaw
The special NUK Shape is modelled on a mother´s nipple as she breastfeeds. It leaves your baby´s tongue and jaw enough room for natural sucking movements.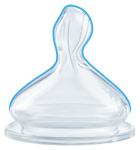 Soft as a mother's breast
With its new soft zone, the silicone baglet is a better fit against the roof of your baby´s mouth – giving a natural feeling while drinking.
NUK First Choice Plus Teat | NUK Australia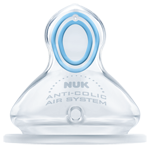 Helps prevent colic
The improved Anti-Colic Air System creates a natural flow so that your baby can drink in a relaxed way without swallowing air.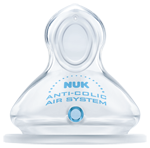 Clinically-tested
Due to its particularly natural shape, the NUK Teat is accepted well by babies. This means that it is specially suited for babies who are both bottle and breastfed.*
Ask a question
Submit your question here and a Save Our Sleep team member will get back to you.